Is tonight the group sex night? If this question made you shiver with excitement and anticipation, you came to the right place. Today we'll discuss the best threesome positions that will calm your nerves and prepare you for the big night. Be aware, though. Things are about to get hot!
But first, did you know that most Europeans fantasize about having a threesome? According to previous findings, 95% of men and 87% of women wish to try threesome sex, so it's probably European's most common sexual fantasy.
However, those who had this experience often say it didn't meet their expectations. And that's why preparation is your best friend for a successful threesome experience. With this list of my favorite threesome sex positions, you can make the fantasy become a reality. In addition, all threesome sexual positions come with pictures and illustrations, so it's easy to try them yourself in the bedroom.
Whether you're seeking novelty or want to tick threesome sex off a bucket list, this guide is for you. Are you ready to party?
1. Double Cowgirl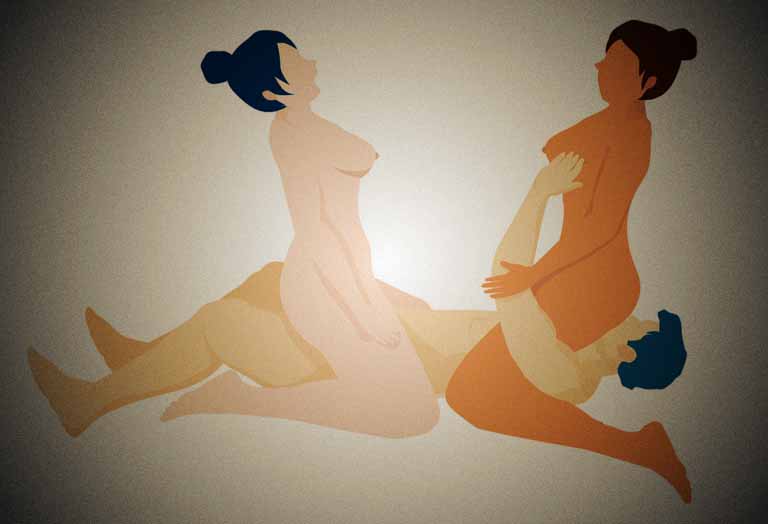 If this position comes to mind when you're fantasizing about FFM threesome sex positions (Female-Female-Male), I don't blame you. Having two vagina owners on top is better than one. Plus, there are some other reasons why double cowgirl is one of the best sex positions on this list:
You get to pleasure two partners at the same time, which is both challenging and extremely rewarding.
You can enjoy a fantastic view of your partner's most erotic body parts.
The female participants get to explore their bisexual side, starting with kissing, eye contact, and breast rubbing.
How To Do It
The penis owner lies flat on the bed.
The first vulva owner sits on top of their penis or a strap-on in a standard cowgirl position.
The third vulva owner positions themselves above the first person's head, facing the other receiver.
2. Tag Team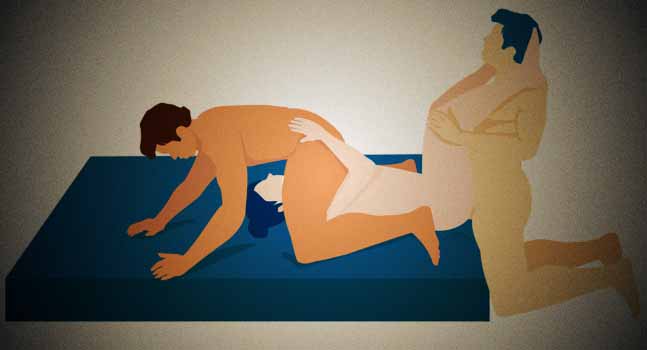 If you're a man and your partner convinced you to try a threesome with another man (MMF threesome), even though you're strictly into women, I have some good news for you.
Firstly, you're a great guy who cares about your partner's pleasure, and I applaud you.
Secondly, in this tag team position, there's minimal contact between two male partners, making it perfect for guys who are not comfortable with the idea.
When you hear your partner moan with pleasure, you'll enjoy this position more than expected. Trust me on this!
How To Do It
The woman lies on her back. One male partner enters her in a missionary position, bringing her legs up.
The other partner positions himself over her head to receive a blow job.
3. Doggy Train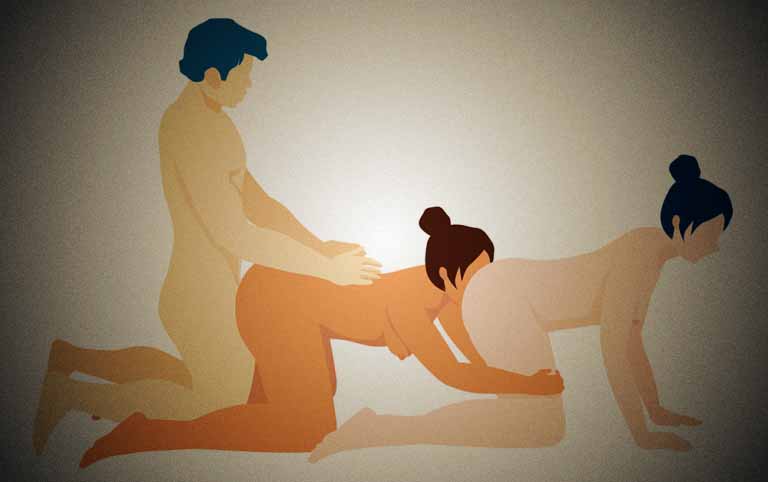 Doggy Train resembles a human centipede but without the horror elements. That's if you do it right, though, since this position is all about technique. Everyone has to work in tune to avoid losing balance and having the middle person slam their head into the front person's butt. While it might be awkward at first, it's always best to communicate clearly to avoid accidents.
If you're a vagina owner who came up with the threesome idea to enjoy the best of both worlds, this is one of the best MFF threesome sex positions for you. In this sexy doggy-style position, your partner doesn't have contact with the third person, but you get to enjoy all the sensations; thrusting from behind and giving oral sex.
How To Do It
A couple starts in a doggy-style position
A third person joins in and positions themselves at the front, ready to receive oral sex
4. Double Oral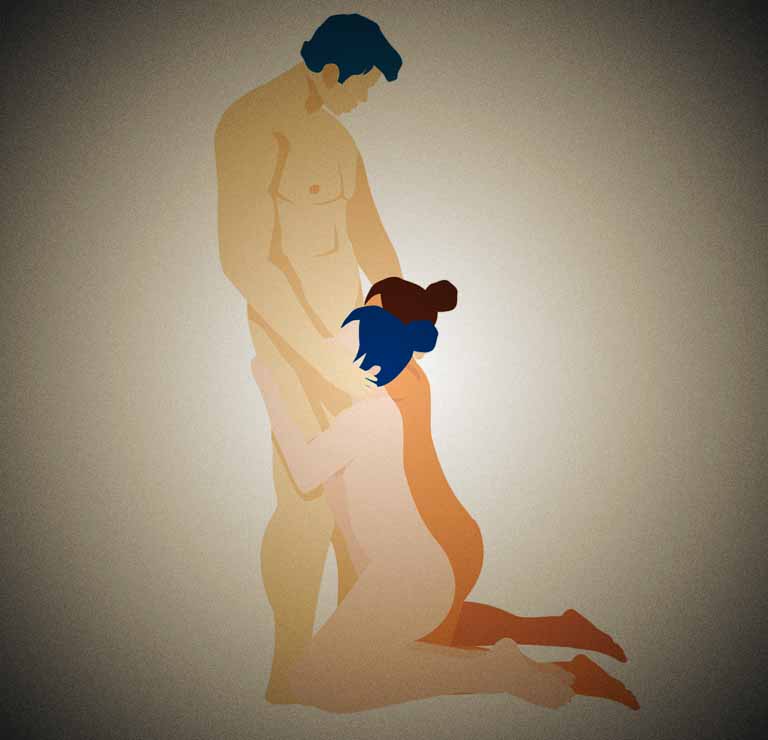 If you're a man, you're going to love this position. Now you can fulfill one of the most common sexual fantasies; having two women at your service all over your penis.
While you might not necessarily reach the happy ending with this position alone, women can always take turns or mix it up with rimming. Either way, the goal stays the same. And I guarantee you. There's no other position that can make you feel more desired and empowered. Both women might even see it as a competition which should be fun, shouldn't it? Let's get this party started!
How To Do It
The man is in a standing position while his female partners kneel in front of him.
Women can switch between oral and stimulating the man's penis with their hands.
Alternatively, one of them can move on to rimming.
5. Daisy Chain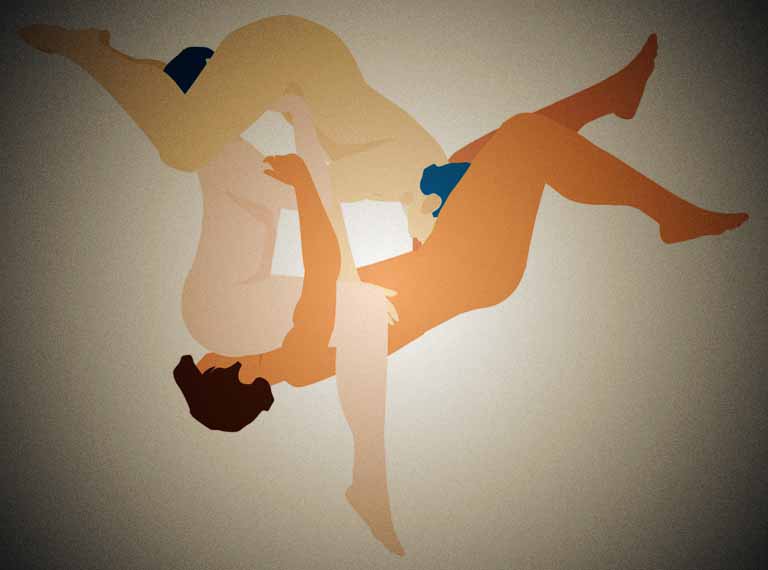 I knew 69 was a great position, but the daisy chain takes giving and receiving to a new level. Who would think pleasing two people at the same time is possible? All while getting your share of pleasure, of course.
Daisy chain looks complicated, but it's a position that can really heat things up, so be patient. It also hits all the right spots, whether your third is a man or a woman. Since giving oral while receiving pleasure is highly arousing, you can only imagine how stimulating this position can be. Use it as foreplay, or wait until you're all ready to take things to a new level.
How To Do It
All partners lie on their sides close to each other's genitals to form a triangle.
A more advanced variation requires a man to lift her legs and eat her crotch while performing oral sex on the other woman who gives him a blow job.
6. Eiffel Tower (Spit Roast)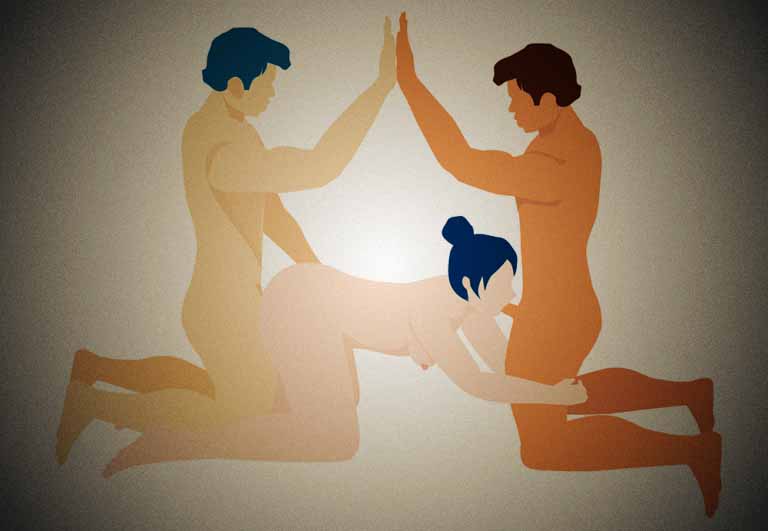 Let me introduce the Eiffel Tower, also known as a doggy blowjob. It's the position you usually see in porn, except without the hand-touching gesture that resembles the famous Parisian tower. But if you ask me, I guess someone somewhere along the road high-fived their buddy, and that's how the name was born.
It's especially a godsend for male partners who are into domination as the woman performs oral sex and gets penetrated simultaneously. Similarly, a submissive female partner might enjoy a temporary loss of control and have the attention of two men. Either way, the Eiffel tower is one of the hottest threesome positions.
How To Do It
One partner penetrates the woman in a doggy-style position.
The second man kneels in front of her and receives a blow job.
7. Double Penetration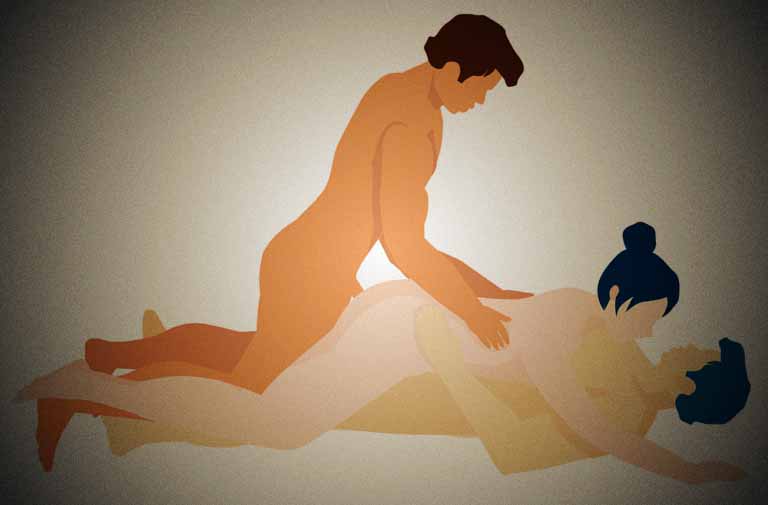 Double penetration is one of the best MMF threesome sex positions. Why you might ask? To put it simply, double stimulation means double pleasure. If you've ever used a dildo and a vibrator simultaneously, you know what I'm talking about. There's nothing better than a climax from G-spot stimulation and anal penetration. Add clitoral orgasm to the equation, and you have a recipe for a very powerful combo!
How To Do It
One penis owner lies on their back. The woman then straddles his hips while lowering herself onto their penis.
The second penis owner enters her from behind. He can squeeze her legs with his thighs and put one hand on her hips to ensure a better balance.
Alternatively, the top can perform rimming so you can enjoy both oral and penetrative sex.
8. The Train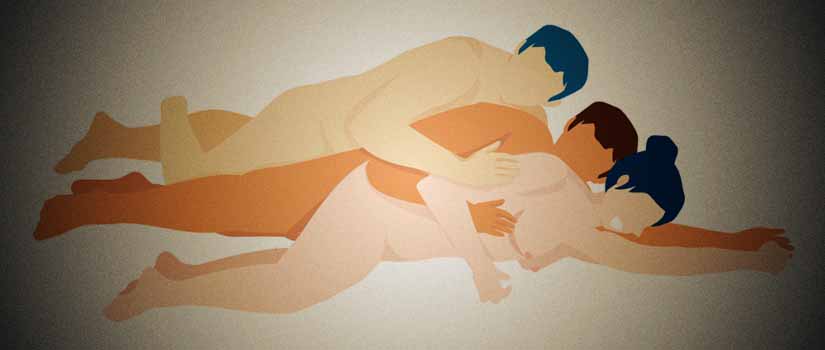 Many couples like to invite a total stranger for their threesome escapades: no personal connections or mutual friends.
Yet, this threesome position requires maximum closeness, which might be uncomfortable if you're not familiar with each other. Having a stranger's genitals in your face isn't the same as embracing them. I get it, the intimacy part might be a bit intimidating, but the position is still fun to try.
It works for genders, but it's the best option for two men and one woman. The train requires all partners to penetrate each other at the same time, which is extremely hot and really gets you going. Alternatively, one of the women can use a strap-on and swap positions.
Pro Tip: if it isn't the first time you're having a threesome with each other, leave it until the end and enjoy some cuddling afterward.
How To Do It
All partners lie on their sides and penetrate the person in front of them vaginally or anally.
To make this work, all partners have to stay close to each other to avoid one of the partners slipping out and disturbing the rhythm.
No penis? No problem. You can always use a strap-on or a dildo to make it work! (Check out this guide for more strap-on positions)
9. 69 Plus One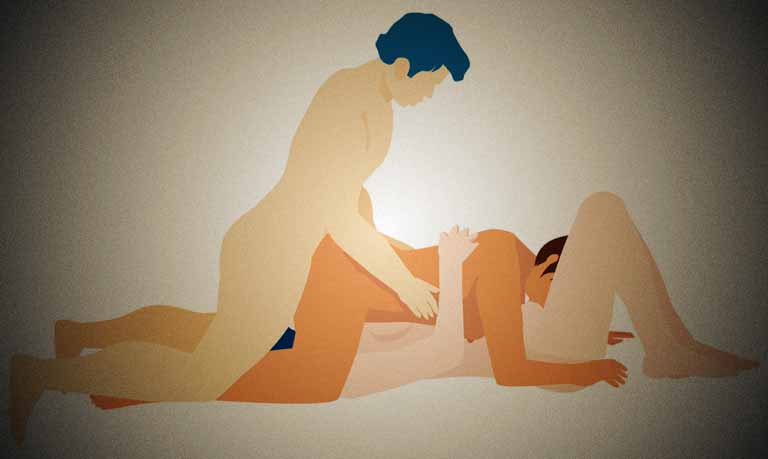 If you're a heterosexual man, you know there are very few hotter things than seeing two women enjoying themselves. If you get to be a part of the action, that's the real win. In the 69-plus position, you can enjoy an incredibly arousing view which, in combination with penetration, is a huge turn-on.
Otherwise known as doggy deluxe, this position is a real treat to a woman on top as she enjoys two types of stimulation. While the second woman might feel a bit left out of penetrative sex, she still receives clitoral stimulation. Doggy deluxe also works with male-male-female (MMF) in three ways, in which case one man receives oral. Find whatever works best for you and your situation – threesome sex is all about experimenting.
Pro Tip: if you're all women, you can experiment with a strap-on.
How To Do It
The women get into 69 positions.
The man penetrates the top woman from behind either vaginally or anally (anal sex).
10. Daisy Petal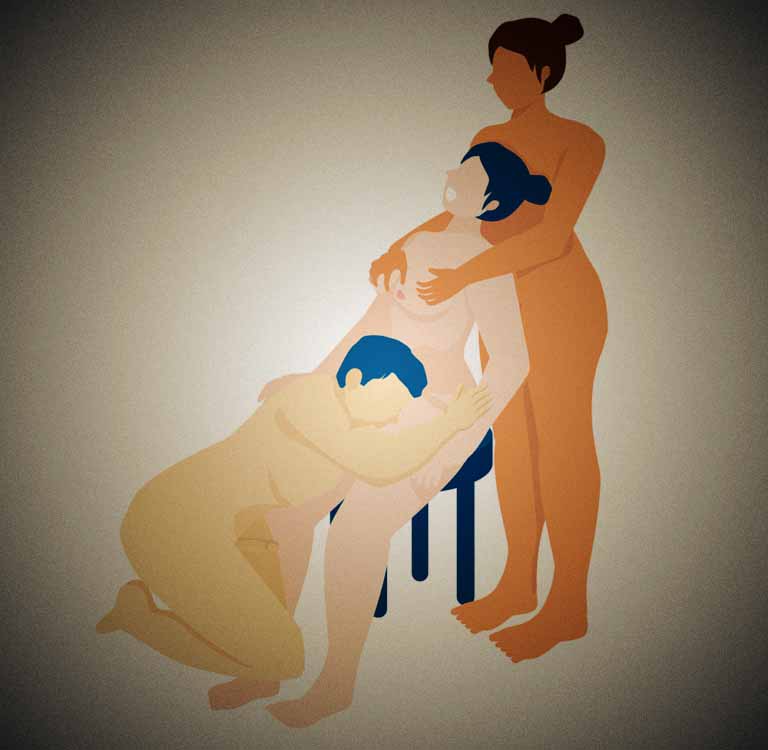 If you're a woman who swings both ways, daisy petal is one of the best threesome positions for you. You get to be pleased by a man and a woman simultaneously while doing absolutely no work. Well, maybe besides expressing your approval. It's a total dream, especially if you want to flip the usual porn script and put a woman in the center of attention for her own pleasure for once.
While this position doesn't involve penetration, the partners experiment with a combination of different erogenous zones. The bottom partner might add fingers while giving his partner oral. And the top partner can incorporate neck kisses and breast stimulation. Just remember, in this position, you're in charge, so don't be afraid to make demands.
How To Do It
The woman sits in a chair with her legs spread.
One person kneels in front of her, giving her oral.
The third partner stands behind her and uses her tongue to stimulate different erogenous zones.
Alternatively, they can use sex toys for even more powerful stimulation.
Conclusion
Did you enjoy my list of the best threesome sex positions?
Threesome sex acts aren't for everyone, but they can be fun. You won't know until you try. And if you wonder if it can make or break your relationship, according to studies, sexual exploration has the same effect as trying out any other new activity with your partner. Experimenting in bed can strengthen the bond between partners and help them develop an extra connection.
Just remember not to push the idea of sex that involves more than one partner, and it only works if the other person is comfortable inviting a third too. Once you've reached an agreement, as long as you follow common sense, you'll be fine.