Vanilla sex gets boring quickly. And that's why many adventurous couples add bondage positions to their sex life. Before, nobody talked about it openly because many consider it taboo, but now, people have more freedom to explore their sexuality and embrace their kinks and fetishes.
Bondage is just one of the many ways people can enjoy sex to a more extreme level. Not everybody is into this kind of hardcore sexual activity because they feel uncomfortable and nervous about doing it. On the other hand, some love that experimenting in the bedroom is just healthy. And bondage is just another fulfilling and pleasurable sex act that people should experience.
Whether you're a newbie or a veteran seeking out bondage sex positions ranging from something laid-back to intense full-body bondage, you'll find what suits you as you explore the thirteen best bondage positions presented below.
Note: BDSM/Bondage are advanced sex acts, and you need to take great care when doing them. Any action you take upon the information on this website is strictly at your own risk, and we will not be liable for any losses, injuries, and damages.
Bondage Sex Positions For Beginners:
Is it your first time trying bondage? Do you think you don't have sufficient knowledge and skills yet? Then these beginner bondage positions are a great way to start. For most of them, you just need rope, bondage tape, and a spreader bar. Maybe even a ball gag or blindfold if you want to spice things up.
Crab Tie
The Crab Tie is ideal for dominant guys who love to take a more active role during oral sex while the woman remains submissive. Women also find this position interesting, especially if they love a man eating her out while tied up. This position makes an exciting variation of the usual 69 positions, called Yin-Yang.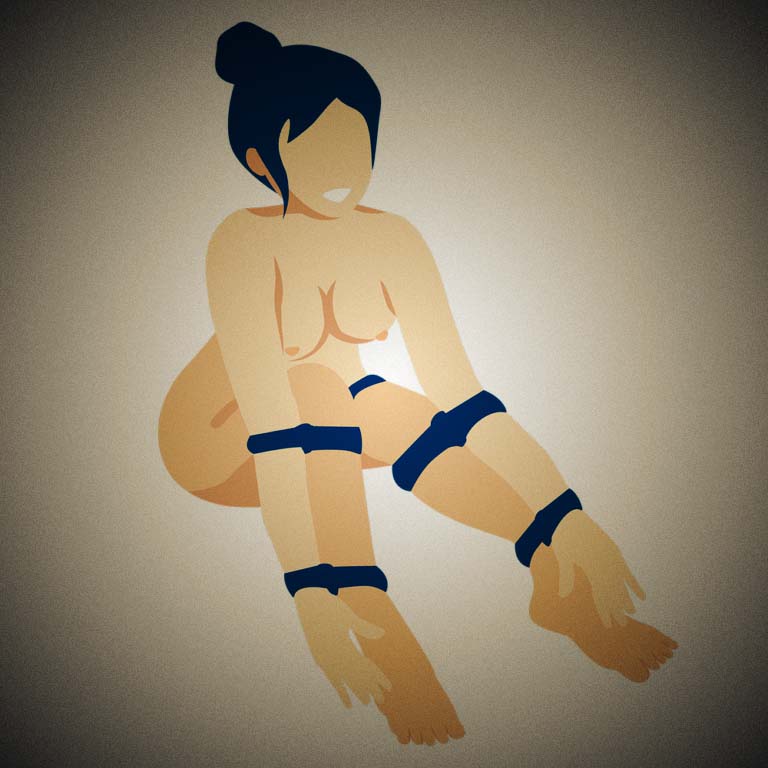 Allow your partner to sit on the bed, raising her knees to her chest. With the restraint of your taste, may it be silk sashes, a silk scarf, fabric cuffs, or bondage rope, tie her forearms to her calves and place her in a seated crab tie position. Afterward, you can roll her onto her back and spread her legs as far apart as possible.
Now, you can position yourself with your knees near her head while supporting your weight on your hands. If you set everything up correctly, your sub can reach up and give you a blowjob as you proceed to eat her out to your heart's content.
Spread Eagle
What's great about the Spread Eagle is it's relatively comfortable and easy to perform. You won't need a ballet dancer's flexibility to be tied into this position. And if you're responsible for tying, you don't require any particular skills.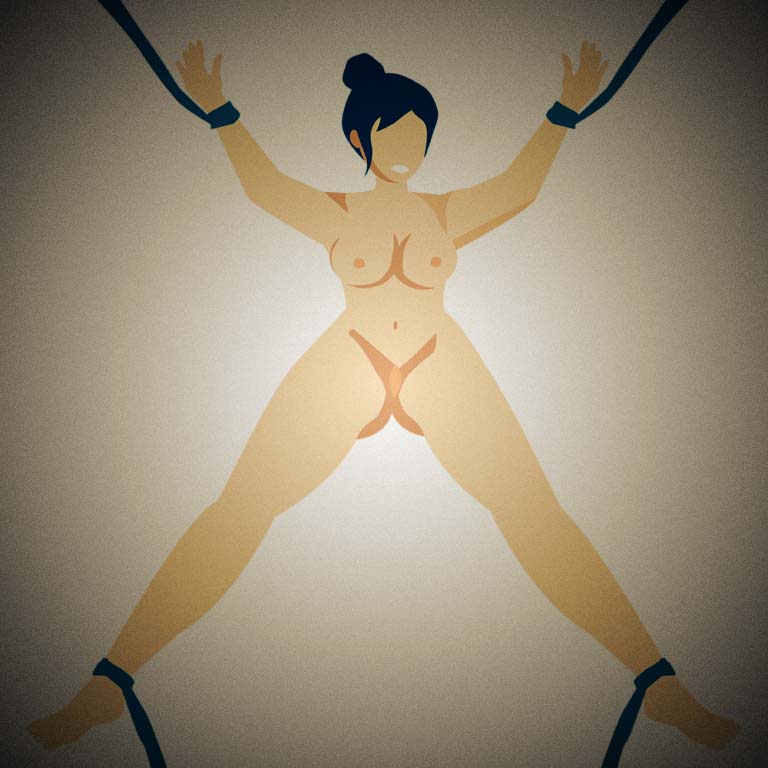 Leaving the genitals accessible for stimulation or penetration makes the Spread Eagle the all-time favorite of newbies and experienced ones alike. It also leaves the breasts open for business and is ideal for most lingerie. While in this position, you can also have your sub wear a corset, and tie them into a chest or breast harness for the ultimate arousal.
You can position your captive horizontally on a bed, taking note of its proportions. Just picture their body sprawled out in the shape of an X. If your bed has posts, you can affix your partner's wrists and ankles on them.
Pro Tip: An under-the-bed restraint system is perfect for the Spread Eagle position. You can also make things interesting with a vertical Spread Eagle or bondage equipment like the St. Andrew's Cross.
Chair Bondage
Even with beginner bondage skills, you can easily do chair bondage with your submissive. You will need a chair for this position (duh). A straight chair leg model is preferred, with armrests to which you can tie your rope. Have your partner sit down in the chair and tie her ankles to the chair legs. If you don't have a good chair in the house, you can also use a spreader bar.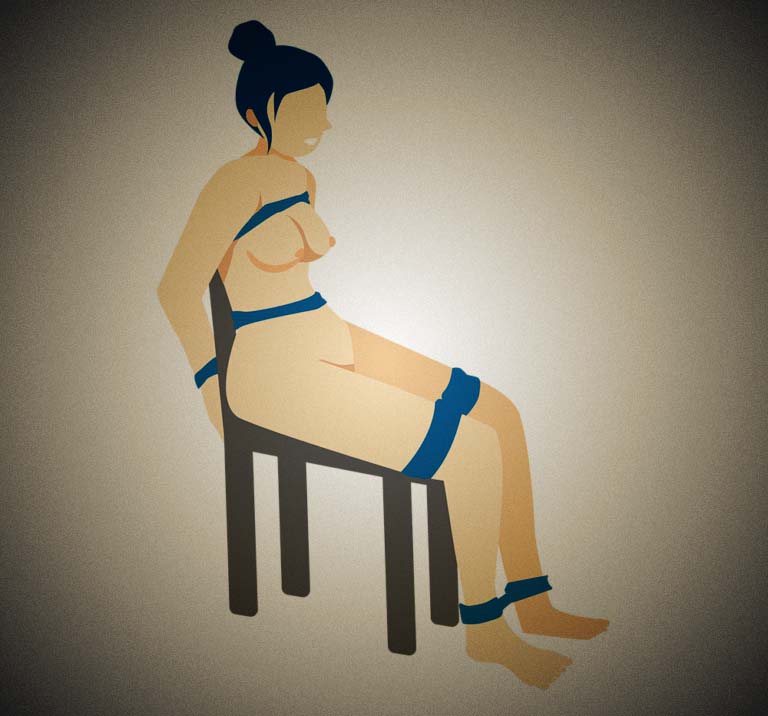 Please proceed with the arms as you tie them on top of the armrest. If your chair doesn't have an armrest, you can gently secure your sub's wrists behind the back instead. Regardless, you will enjoy a hands-off lap dance or striptease with the irresistible charm of this chair bondage position.
Wall Bound
Wall Bound is a newbie-friendly way to enjoy the pleasures of BDSM. It's an excellent technique for tying up a person safely and comfortably, as the wall helps maintain balance.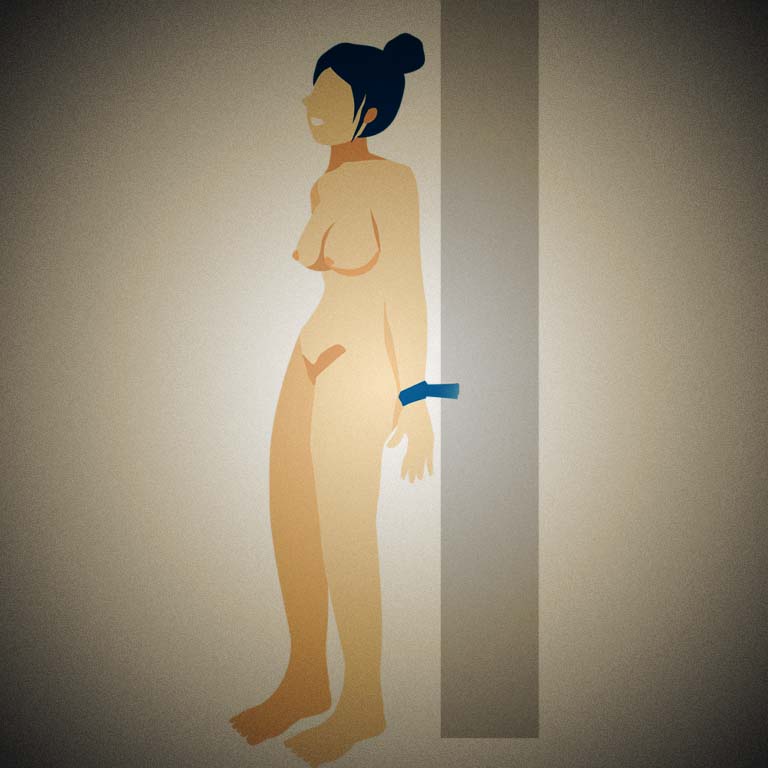 There aren't many necessary preparations for this technique. Firstly, you have to find a bare wall or any durable flat surface and bondage tape to tie your sub up. You can use the shower as you can use its taps to bind your partner. But be careful with the slippery floor.
If you want to feel simultaneously incapacitated and pleasured, try out this technique and let all your wildest fantasies take over.
Wide Open/ The Mark
Simple as it appears, this is the beloved position of many cliché damsel-in-distress scenes in Hollywood movies. Though in films, the damsels are usually dressed as most slave girls on the big screen, in contrast to the more provocative side of BDSM.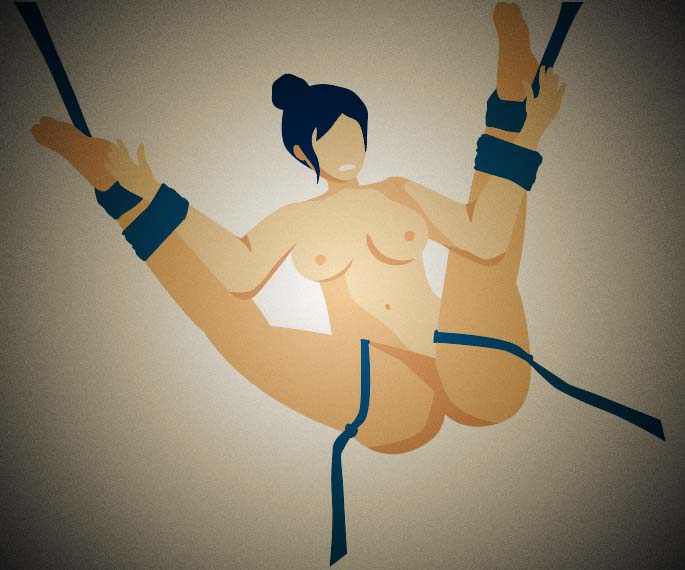 The Mark is distinguished simply by the wrists/ankles tied together and hauled over the sub's head. Her ankles are kept apart from each other with the use of rope or a spreader bar. This position is excellent if you want unparalleled access to your sub's private part while making sure she can't move much.
You must always practice caution when doing these strenuous BDSM sex positions. If the sub raises her hands above her head for prolonged periods, circulation problems may arise, and worse, loss of consciousness. And you should use always use padded suspension cuffs to avoid too much pressure.
Take note you should only do this bondage position briefly and with suitable cuffs for suspension.
Another variant is the "Virgin over the Pit of Doom," where the legs are tied together. Similarly, there is also a position called "Slut" where the slave girl eagerly holds her legs wide open without being forced apart.
Movies use spreader bars as a symbolic tool where the maiden's virginity is sacrificed, which is also a brilliant idea for exciting BDSM sessions.
Bondage Sex Positions For Advanced Players:
Are you ready to take bondage to greater heights? If yes, then you should consider trying these bondage sex positions for advanced players:
Hog Tie
The Hog Tie is likely another BDSM position you're familiar with. The first step is to position your sub on her stomach, binding her arms and ankles comfortably tight. You can also gently arch her back by pulling both the ankles and wrists together securely. If you happen to be a vicious dominant, you will love this position as you witness your partner in a tempting and vulnerable state.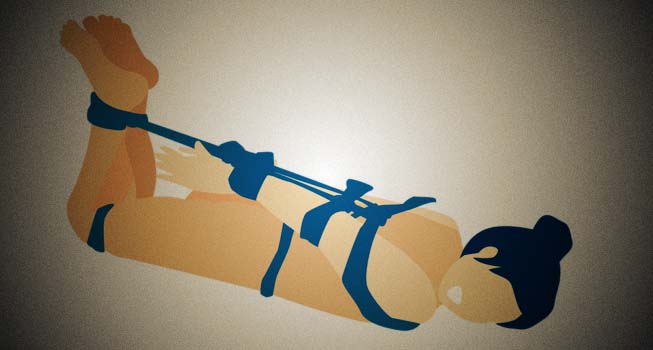 You can accomplish hogtie bondage through basic rope work. But it's easier to use specific Hog Tie bondage devices, especially if it's your first time doing this position.
Keep in mind the hogtie position isn't for first-timers. Hog tying is a demanding torture position that can stretch your sub's limbs in an uncomfortable way for the inexperienced or unprepared. It may even lead to unpleasant consequences like damaging the tendons or ligaments if you forcefully tie someone into this position.
If you think you're up to the challenge, you can first attempt a looser version of Hog Tie, which keeps the sub's arms closer to the side and doesn't pull the body that much backward. There's also another variation where the sub bends at the waist and doesn't lie flat on the bed. It then allows you to secure her wrists and ankles much easier.
Bottom's Up/ LeapFrog
The LeapFrog position is similar to the famous doggy-style position, albeit with specific adjustments to spice things up. The sub's wrists are bound to the ankles, and the arms pass through either inside or outside of the legs, depending on her flexibility. Another way to achieve this position is by using a spreader bar aside from the usual ropes or other leather restraints.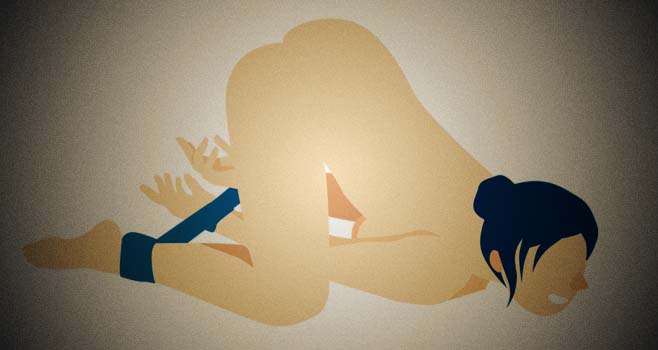 The bottom can push her butt in the air, allowing her dom to enter from behind or do spanking. Additionally, she can re-position her lower body, either positioning it to lower or raising it by placing pillows or cushions underneath the belly for support. A big bonus is this is one of the best sex positions to hit the G-spot.
Frog Tie
If you're looking for tied-up sex positions exclusively for the legs, Frog Tie might be for you. You can mix it with arm or body bondages to experience total domination.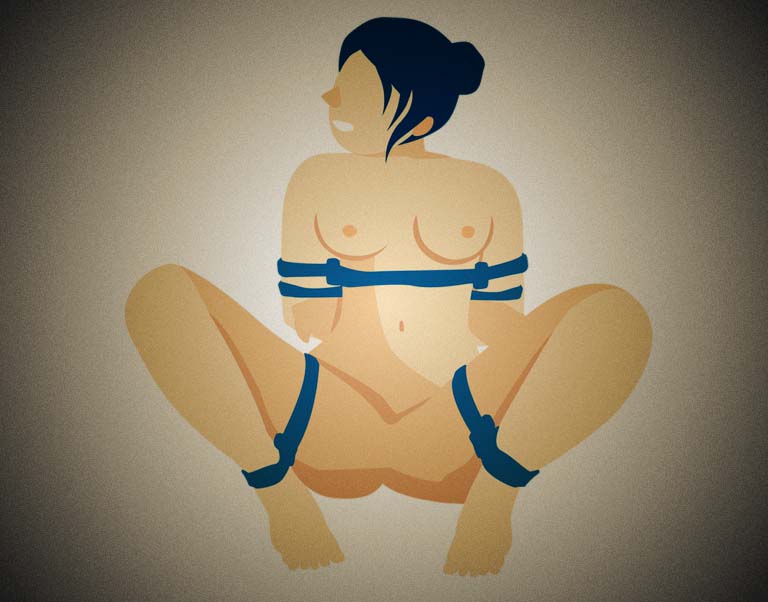 You start the Frog Tie with your sub kneeling while resting the calves against the back of their thighs. Keep them in place by binding their legs in a tight yet comfortable manner. This position is excellent for clitoral, vaginal, or penile access as it keeps the legs separated provocatively.
Still not satisfied? You can proceed to bind your partner's wrists to the outer part of their thighs. While bound in the Frog Tie, you can move them into many possible bondage sex positions where they rest on their hands or elbows and knees. What's great about the Frog Tie is that you can even tie yourself into it without any help if you're into the pleasures of solo bondage.
Box Tie
Another favorite position of the film industry is the Box Tie. For this one, the arms are bound together behind their back, bending their elbows at a 90-degree angle, perfect for any BDSM scene.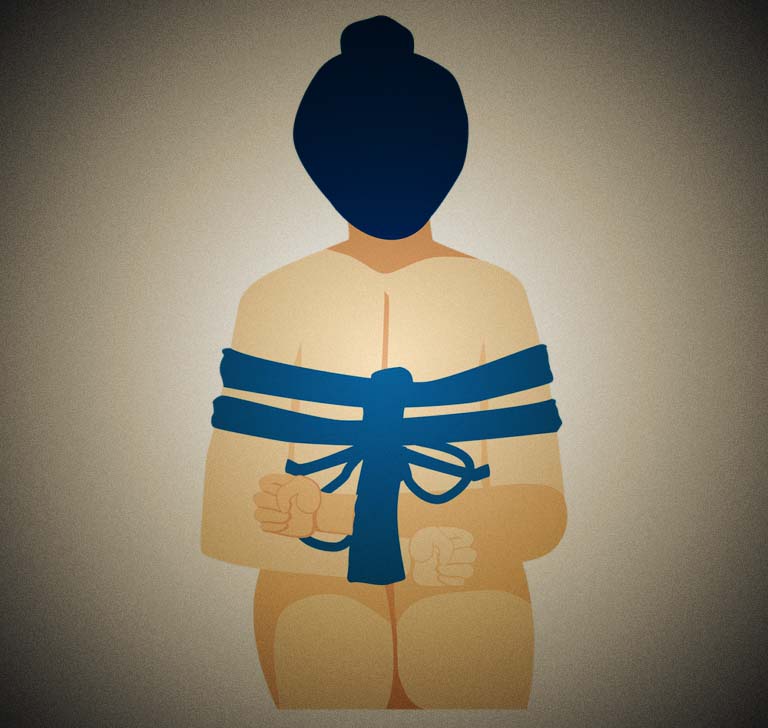 You can achieve the Box Tie by cuffing your sub's wrists together or simply tying them with more intricate rope work. There's also another version where you loop the rope around your partner's shoulders as well, instead of the usual tying of the arms and wrists. You can even combine it with leg bondages, depending on your preferences.
A more strenuous variant of the box tie is the reverse prayer position.
Bent Over (Spreader Bar)
The Bent-Over position restraints the wrist and ankle with the help of a spreader bar, holding a person in a standing forward fold. It is certainly not for the faint of heart as it requires decent flexibility and balance on the sub's part. If done correctly, the Bent-Over bondage position provides a sexy and erotic view, with countless possibilities in-store.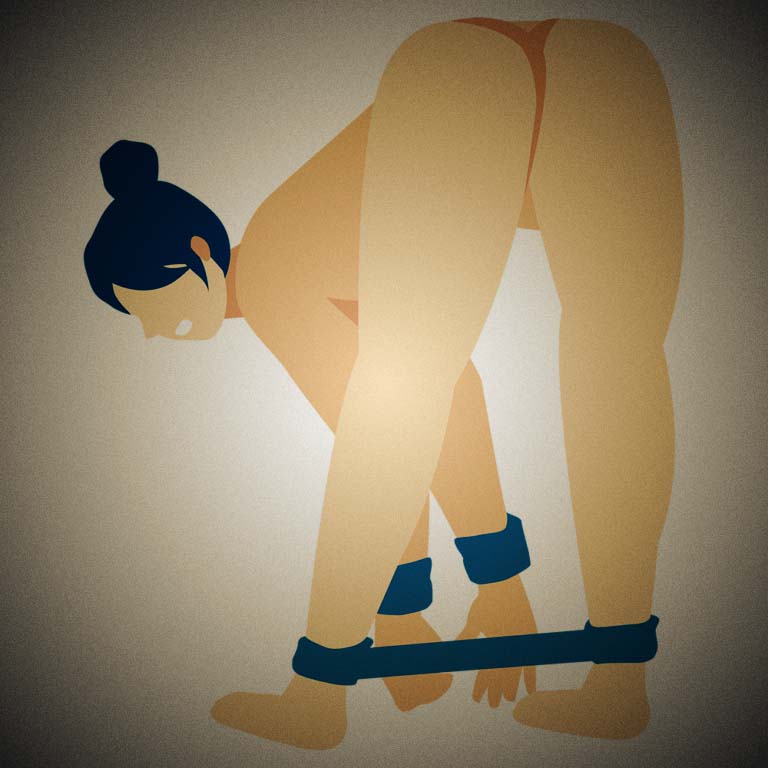 This one is a tough position to maintain, so ensure your partner is well supported or cushioned by a soft surface in case of a fall.
Cocoon/Mummification
Cocoon or Mummification is for experienced BDSM practitioners only, and the top should do it with extreme caution. As its name suggests, the submissive is enclosed in a "cocoon" by tying her from chest to ankles while her body is in a straight line. Tying the arms depend on your taste. Many people hold their arms above their heads as close as possible, while others include them in the bondage by keeping their arms steady at the side.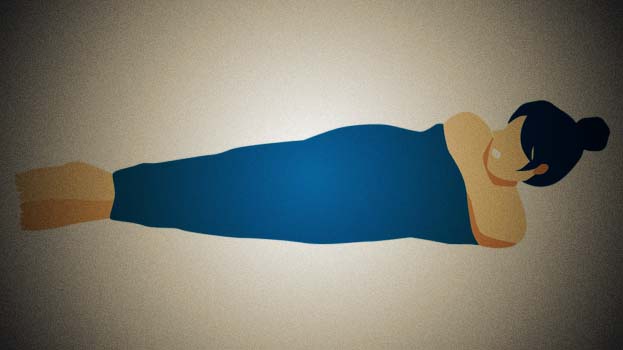 You can choose from different kinky variations to achieve this BDSM position. The first option is to completely wrap your partner from chest to ankles using plastic wrap. You can also place just a few straps in strategic locations: around the sub's chest, hips, knees, and ankles. If the hands are above the head, you can also wrap the arms if you like.
If your goal is to prevent movement, you can use a rope harness and tie them around your partner's body. Lastly, you can opt to use bondage tapes to bind your partner.
Remember that using plastic to cover someone raises the body temperature, so you might try working your way up from simple straps that allow the skin to breathe before proceeding to the more daring bondage styles. If you wanted to try plastic, take note of ventilation holes and regular hydration during your BDSM session. The use of straps in Cocoon bondage leaves more body parts such as the butt, breasts, and genitals accessible for stimulation and teasing.
Shrimp/Forced Bow
Somewhat similar to the Hogtie, the Shrimp or Forced Bow bondage position appears deceptively easy, but it's extremely tough to maintain as the bending over restricts breathing. While in this position, make sure to check with your partner regularly, and once they get too uncomfortable or their breathing starts to get too shallow, let them out immediately.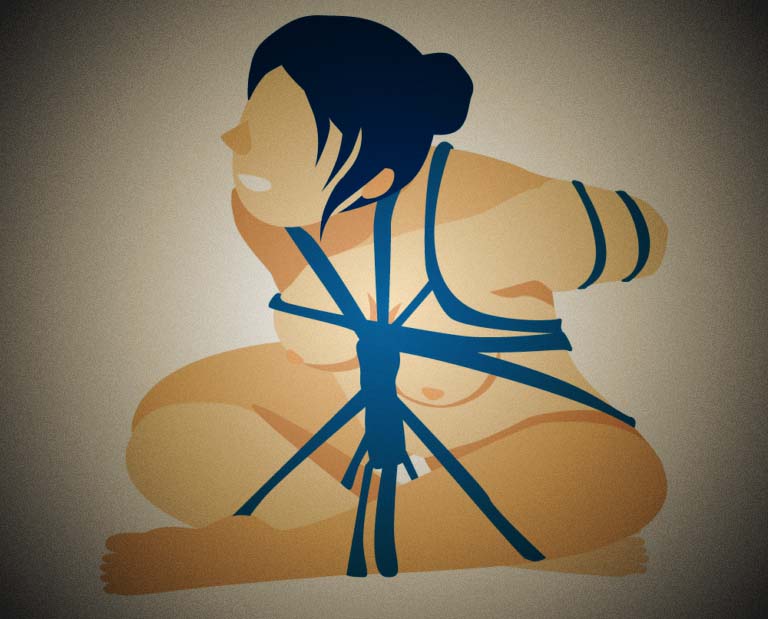 The good thing about the Shrimp position is you can quickly secure your partner and flip them over for open access to their ass and genitals. Compared to the Hogtie, this position is more sex-friendly since it keeps the legs out of the way. You can find any bondage ropes of your choosing. And you can even make things more exciting with an armbinder, collar, or ankle restraints.
To further restrict your sub's movement, the knees can be bound inwardly.
Over The Chair/Over The Moon
If you're experimenting with advanced rope bondage positions, Over the Chair is a must-try. This pose secures both the arms and legs of your partner to the chair legs, granting you unimpeded access to any part of the lower and upper body you desire.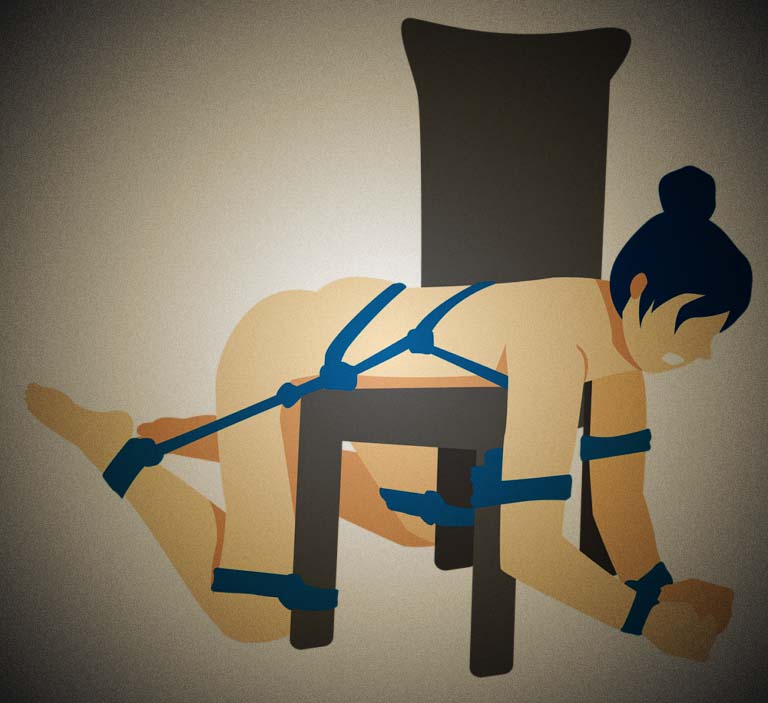 To start, lay your partner over a chair with their knees on the floor. Next, securely tie the bondage rope to each of the chair legs, and then wrap it multiple times around your partner's upper arms and thighs.
You can also use fabric or steel handcuffs to secure their hand and feet if you like, giving them a unique sense of vulnerability. Using rope offers more restrictions, but you can choose a safer alternative like silk sashes for an enjoyable BDSM play.
Conclusion
These bondage sex positions vary in difficulty, but they're doable. You can start with the easiest ones first, then slowly work your way up to more advanced bondage sex positions.
However, never force your partner into doing a position just because you like it. Both of you must decide and agree on which position you want to try and make sure you're both comfortable with it. Consent and trust are essential!
And always have your safety in mind. Have a safe word (verbal or non-verbal), safe gesture, incorporate proper aftercare, and have safety shears close by. You should also define limitations, boundaries, and rules before actually doing any of these bondage sex positions. Bondage and BDSM are fun and pleasurable, but they can also cause discomfort and pain if not done correctly.
Like with any other rope bondage position, keep in mind the bondage ties should not be too tight, restricting the blood flow or cause nerve damage. You should easily fit a finger between the rope and the skin. And you need to release the sub immediately if she feels numbness or pain!
And one more time, you're doing these BDSM positions at your own risk!
Thanks for reading!