Are you looking for the best doggy-style positions for more variety in your sex life? On today's menu, we have a list of the best doggy sex positions.
Do you want to appeal to your wild side?
Do you want to improve your sex life?
Or do you want to try something new?
If you answered yes to any of these questions, keep on reading.
Doggy style is precisely what it sounds like – a position inspired by mating seen in dogs. By the way, did you know some dogs can mate up to 10 times per day?
Luckily, today's guide is about quality, not quantity. Thanks to the doggy positions featured on this list, you'll be able to experience different aspects of deep penetration and introduce novelty to your lovemaking sessions.
Let's dive in!
Pro Tip: All doggy style variations come with pictures and illustrations, so it's easy to try them yourself in the bedroom.
Traditional Doggy Style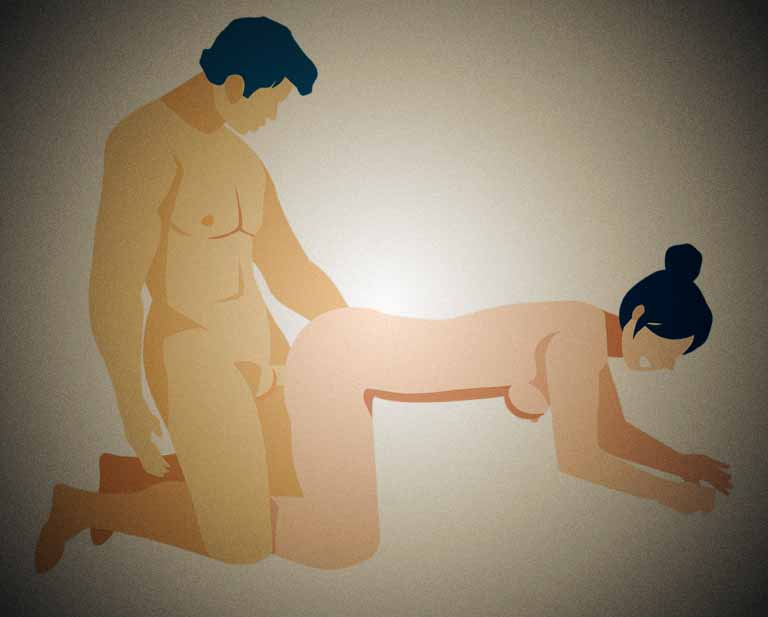 No doggy style list is complete without the position that started it all – the traditional doggy style. As the name suggests, the doggy style was spotted in the animal kingdom and became one of the go-to sex positions to release sexual urges. It even existed in ancient Rome, and the Romans used to call it "sexual intercourse in the manner of wild beasts."
Naturally, the rawness makes the classic doggy style so hot. There's no space for gentle kisses or head strokes here. We both know what typical doggy style comes with – a bit of power-play, being pushed onto a bed, choked, hands tied, or having your hair pulled.
Apart from taking advantage of the power dynamic, this effective doggy-style sex position lets you incorporate sex toys. A vagina owner might use a vibrator to enhance their orgasm or a dildo for double penetration.
How To Do It
Get on all fours on the edge of the bed.
Your partner then stands behind you and holds onto your hips.
Alternatively, he might join you on the bed in a kneeling position.
Laying Doggy (Prone)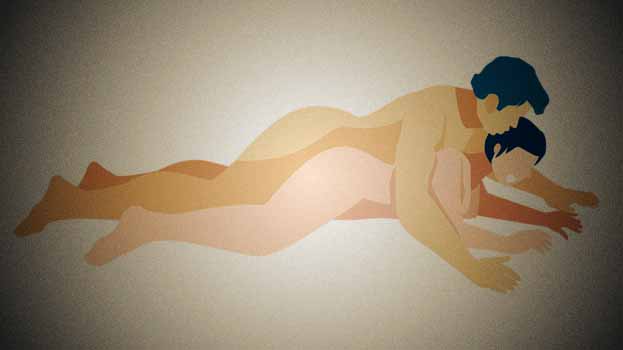 Another reason doggy style is one of the best sex positions is that it's great for G-spot stimulation. This flat doggy-style variation allows maximum pleasure as it offers a deeper penetration that hits all the right spots. While you can't access your clitoris while lying on your belly, you can have your partner stimulate your butt to heighten the sensations.
In addition, this Doggystyle position is a godsend for your partner too. It gives him a great view of your body curves and a smooth pull-out. Plus, he can kiss your neck easily.
How To Do It
Lie down on your stomach with your legs slightly apart.
Your partner then slides into the position.
You might squeeze your legs together for extra deep thrusting.
Doggy With Pillow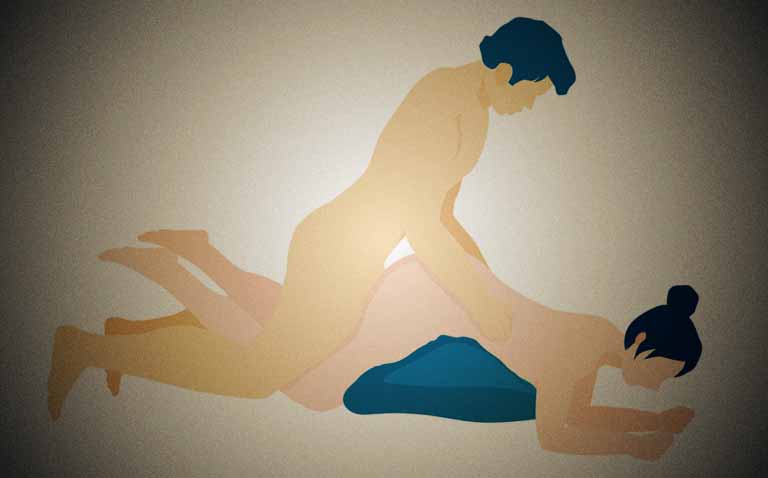 One of the reasons the doggy style with pillow is a great position is that it comes in two variations.
In the first doggy-style variation, the pillow is under your knees, allowing for just the right angle to access the G spot. In addition, your partner has a view of all your best bits and can switch between vaginal and anal sex. You can also use a butt plug at the same time to enhance sensations.
In the second variation, the pillow is under your stomach, creating a slight pressure and elevating your pelvis. Think of it as an upgraded version of the lying prone. Plus, if you're new to deep thrusting or trying anal for the first time, a pillow can serve as a comfort object. Get cozy and ask your partner to move slowly. And don't forget the lube!
How To Do It
In the first doggy sex position, the pillow is placed under the woman's knees.
The man then stands behind her and brings her feet to her bum cheeks. It's quite a hip flexors stretch!
In the second sex position, the vulva owner lies on a pillow placed under her stomach, and the penis owner enters from behind, just like in the lying prone position.
Standing Doggy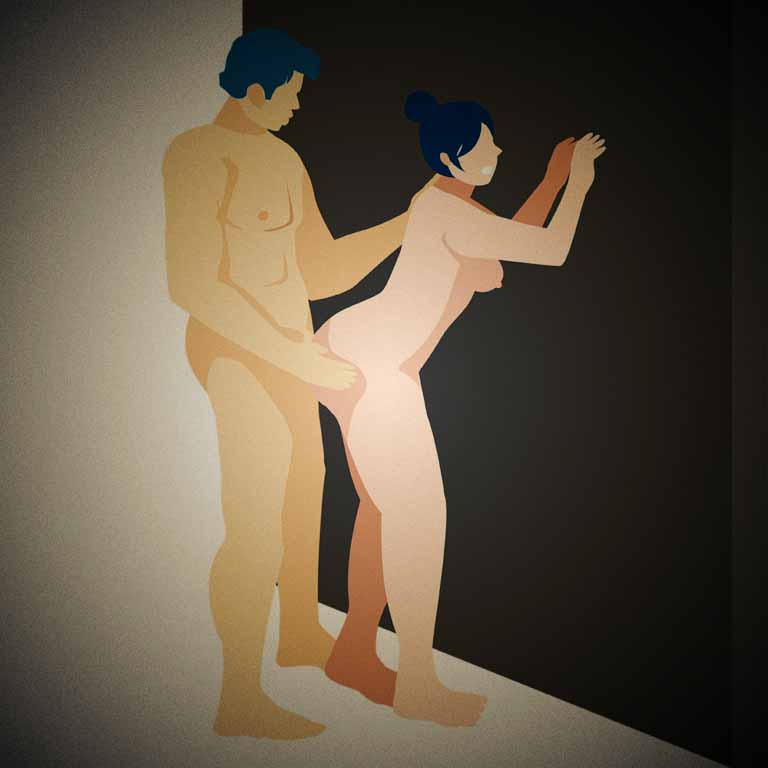 Standing doggy style isn't much different from the typical doggy style position, except you can say goodbye to sore hands and knees.
It's the easiest position to get into, and since it's a standing position, it leaves a lot of room for creativity. Sure, having sex in your bedroom might be the safest option, but nothing is more thrilling than satisfying your urges whenever you feel like it. Whether you're out camping or on a shopping trip, all you have to do is find a secluded place and get down to business.
If you want to slightly get out of your comfort zone, consider adding a third to the equation: the mirror. Watching yourself having sex is a hot and intimate experience; it allows you to become more comfortable with your partner and witness the pleasure on their face.
Pro Tip: Have your partner grab your wrists or neck to help you keep balance. Alternatively, you can rest your arms on the wall.
How To Do It
Lean against a wall so your partner can enter you from behind.
Then, have your partner pull you up into the standing position.
Doggy With Exercise Ball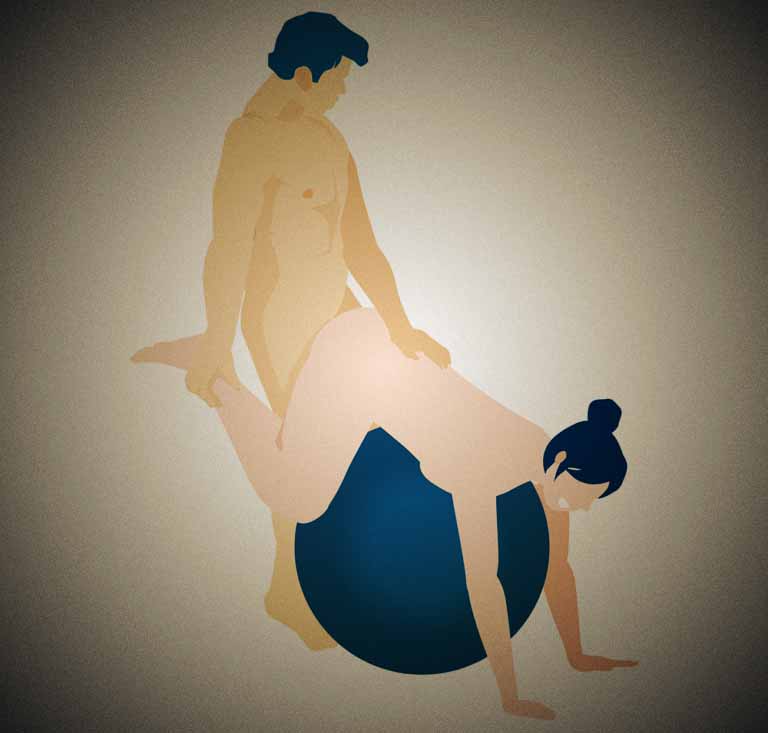 If you're an exercise junkie, this position will be right up your alley. You can combine two things you love the most: sex and exercise. Or perhaps you can finally use that exercise ball you'd sworn you'd use (but never did).
Either way, this sex position gives you a fantastic orgasm. Thanks to the ball supporting your body, the angle is perfect for G-spot stimulation.
The only thing to keep in mind here is the balance. Make sure you communicate with your partner well because if he thrusts you too hard, you might fall on your face. But hey, high risk, high reward, right?
How To Do It
Lean on the exercise ball and have your partner stand behind you.
He then lifts your legs and helps you wrap them around his waist.
Slide forward so that your hands rest on the floor.
Penguin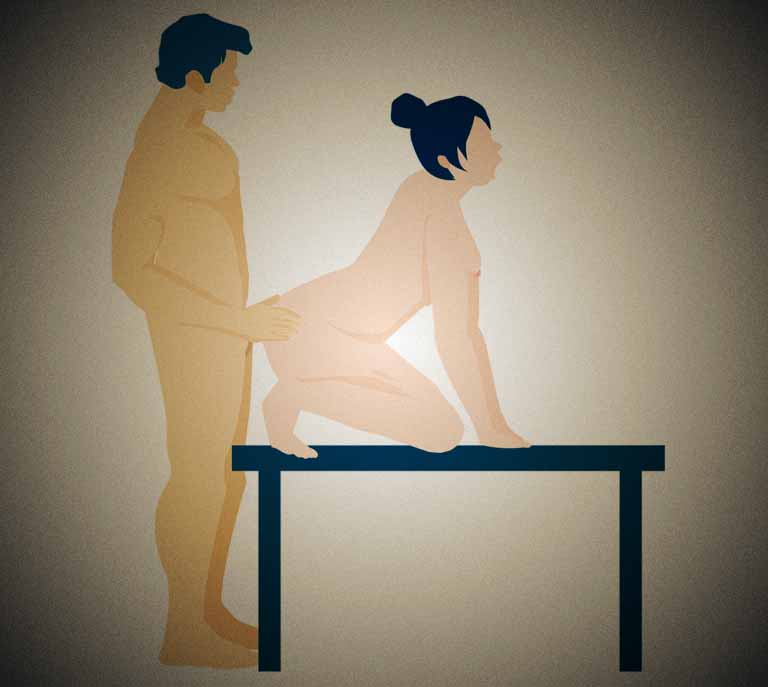 Have you ever wondered how penguins mate? You'd better get familiar with it if you want to succeed at this doggy-style sex position. Although not very popular, the penguin is one of the best sex positions. Here's why:
This doggy-style pose is perfect for both vaginal and anal sex. Mix penetration with fingering, and you'll have a recipe for a powerful orgasm and satisfying sex.
It allows stimulating the A-spot, increasing sensitivity.
The angle allows for G-spot stimulation.
Pro Tip: Keep your legs together to enjoy deeper penetration for extra pleasure.
How To Do It
The woman sits on her toes on the table or the bed. She leans forward and puts her weight on her arms.
The male partner stands or kneels behind her.
Wheel Barrow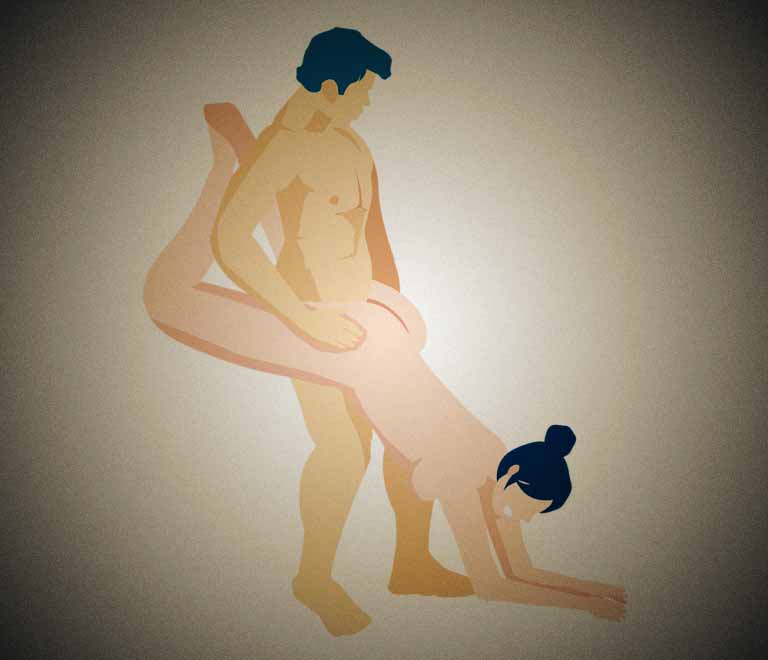 While the name might be misleading, the childhood game and this doggie-style sex position have a lot in common.
Firstly, they both require upper body strength and teamwork skills. You have to make sure you cooperate with your partner to keep balance.
Secondly, it's a hell of a lot of fun. Let's face it, this sex position looks a bit silly, and you'd probably never think of trying it if I didn't mention it in this guide. But, trying new things with your partner is always a positive experience. You can have a bit of a laugh and discover new ways your partner likes to be stimulated.
Thirdly, there's a prize to win: a fantastic climax. The wheelbarrow might not offer the deepest penetration (at least in comparison to other positions on this list), but the angle makes it easy to achieve an intense G-spot orgasm.
Pro Tip: Focus on staying in the position and let your partner be in charge of the hip movement. Do it on the floor – it will be too hard to keep balance on the bed.
How To Do It
Start from a plank position.
Have your partner stand between your legs and pick you up, holding onto your thighs.
Or wrap one leg around his waist and have him help you bring the other leg up.
Jamaican Cocktail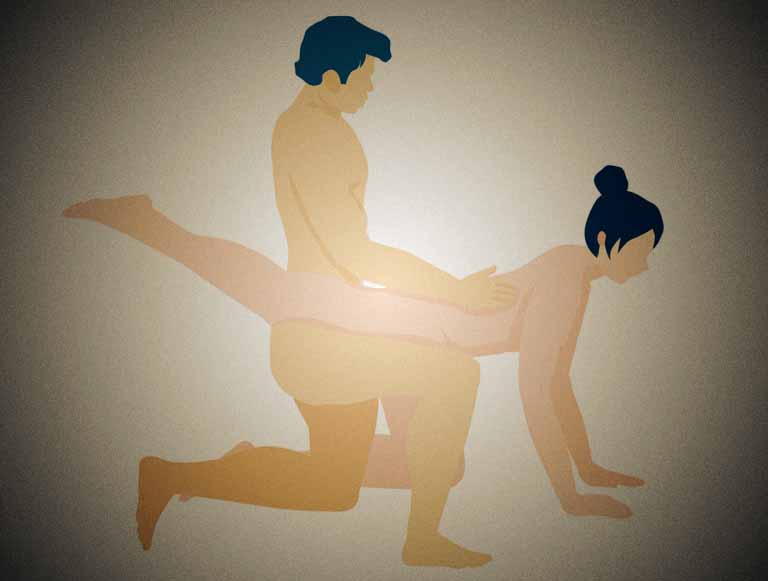 If your partner's penis is on the smaller side, it doesn't mean deep penetration is off the table. In the Jamaican cocktail position, your partner can hit your G-spot even if he isn't well-endowed. He's typically in control, but you can make the penetration deeper by rocking slightly forward and backward.
However, vaginal penetration isn't the only way you can enjoy sex. For most women, orgasms happen as a combination of vaginal and clitoral stimulation – have your partner rub your clitoris or use a vibrator. In addition, a small penis is great for anal sex.
How To Do It
Get on all fours and have your partner kneel on one knee behind you.
The penetrating partner then lifts your leg and places it over the raised knee.
He holds onto the receiving partner's hips to keep them in position.
 Bulldog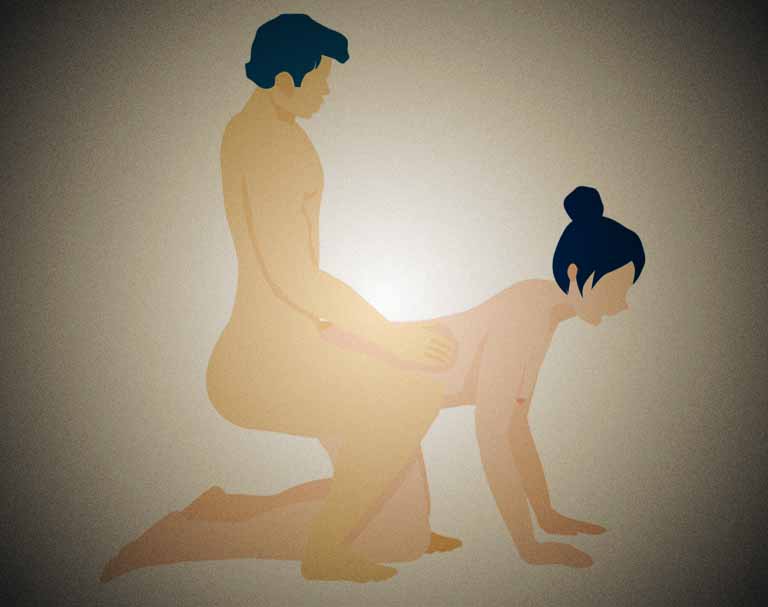 The name isn't ideal. You either own a bulldog and think naming a position after it is a bit of a mood killer. Or do you believe bulldogs aren't especially appealing? But don't dismiss it just yet. Bulldog is a variation of the first doggy position on the list, except it allows for even deeper penetration.
For those experienced with rear-entry positions, this doggy-style sexual position is perfect. It allows for maximum closeness with a partner – even if you're not a fan of going extra deep, there's nothing more sensual than having your partner all the way inside you. Plus, you can either make this sex position gentler by having your partner stop midway to kiss your neck or rougher by having him spank you.
How To Do It
The receiving partner is on all fours with knees squeezed tightly.
The penetrating partner is above her in a squatting position, holding onto her hips to keep balance.
Table Top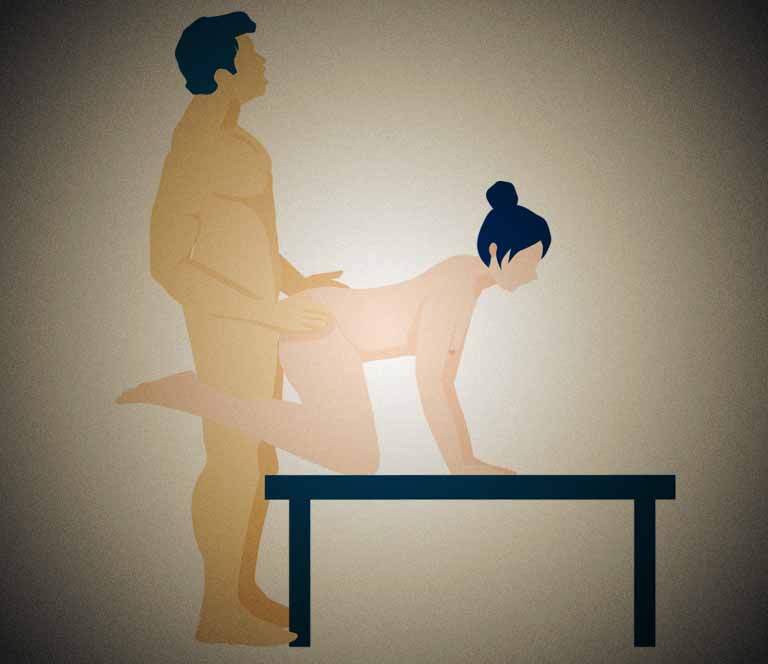 The Table top is similar to standing doggy except with a little twist. To make this variation work, you'll need a relatively small table – most likely a table in your living room. The position isn't meant to be a better alternative for other doggy-style positions – after all, who would enjoy being on all fours on a wooden table for long – but it does add a bit of excitement. A change of surroundings is great for spicing up your sex life, even without the thrill of being surprised by guests.
Additionally, it's a modified doggy-style position often seen in porn. You can play out the scenarios in your head or even engage in some roleplay straight out of your favorite adult video.
Pro Tip 1: Don't forget to use a pillow. Kneeling on a table without protection can be painful.

Pro Tip 2: Keep your knees together for deeper penetration.
How To Do It
The receiving partner is on all fours on the table.
The other partner stands behind them.
Conclusion
I hope you enjoyed this list of the different doggy-style positions. If you haven't figured it out yet, I think doggy style is the best way to spice up your sex life.
Doggy style comes in so many variations that everyone will find something for themselves. Even if you aren't a fan of rough sex, you can choose a sex position that requires gentle hip movement and leaves room for passionate kissing. Trying new things in bed will help you bond with your partner and find new ways you like to be stimulated you enjoy, so don't be afraid to experiment.